I made a butterfly mobile to hang in my yard. It is not put together quite the same as the tutorial I read that inspired me to make it so I will tell you what I did differently. When you make your own it might be different than either version, depends on what supplies you will use.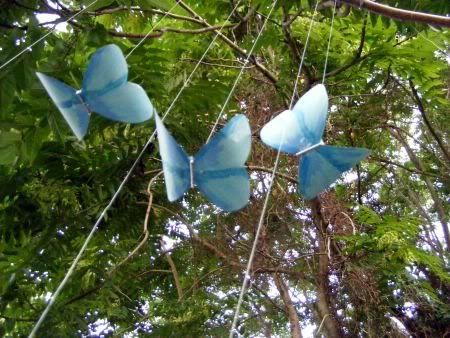 Mine were made by cutting up pepsi max cans, 2 butterflies per can same as the tutorial. The aluminum in soda cans is so thin now days that after removing the ends you can switch to scissors. I cut up the can into one long strip by removing the ends with tin snips (using gloves). Then I cut the tube with scissors to make it a long strip. I cut each strip in half.
I cut a paper template into the shape that I wanted and traced around it with a sharpie marker on the blank side of each piece. Then I cut the butterflies out using scissors.
I sprayed Krylon Primer on each side of the butterfly and once dry, painted with craft acrylic paints. I have been using cheap craft acrylics to paint various things for outdoors for over 20 years and know it will be fine. After I got them painted I sprayed on a coat of Krylon crystal clear to keep the paint from getting scratched off.
*krylon does not pay me nor give me products to use their name. It is just a product I love.
I strung mine differently from the tutorial because I did not have the right color beads and did not want to buy anything for this project. Several years ago I needed one end of toggle clasps for a non-jewelry project. I had saved the bar end of the toggle clasps in a jar hoping one day I would find something I could use them for. They ended up looking great as a butterfly body!
On the top side of the butterfly I attached washers, gluing them on using silicon. I let that set 24 hours. The washer gives it a little bit of weight and they need it. Aluminum is very light weight, even with the washers attached the slightest breeze makes theses flutter... I love them so!
Anyway, after the silicon had cured I used the tip of small sharp pointy scissors and poked a small slit in the aluminum. This is inside the hole of the washer. Then on the opposite side from the washer I inserted the loop of the toggle bar. Then fishing line was tied to the loop sticking in the hole using the same knots I use to tie fishing line to tackle. My grand-daddy taught us how to fish at an early age and said fishing line should never be tied into a square knot because it will eventually give. If you do not fish you can find instructions to tie fishing line to tackle via google.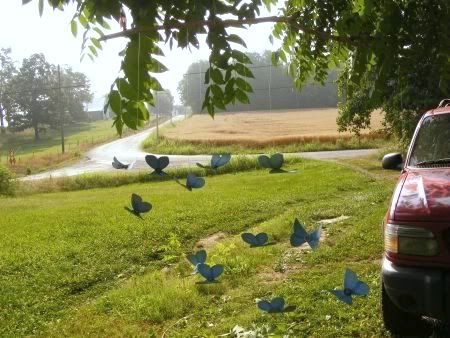 Mine are tied to a long branch then it is hung from line leaders that have swivels. This way the entire thing, branch and all spins in the breeze. The reason I painted them the way I did is because from a distance they look like they could be real butterflies fluttering together.
Here is the tutorial that inspired me. Click the image. She has great step-by-step photos. I like her hanger idea too but wanted mine on wood so it would blend in with the humongous crepe myrtle bush it is now hanging from (not in the above photos).