This project idea came from a tutorial link I found on Pinterest. I made 2 of these and took one outside to get a better photo of it than I could get on my work table.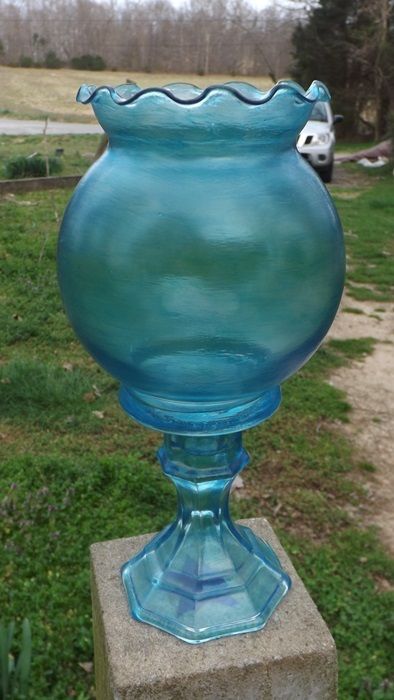 It is supposed to look like sea glass. It does not, but I do like how they turned out so will keep it on.
The tutorial called for mixing food coloring with matte Modge Podge. I used blue and green, more blue than green.
The tutorial called for painting it on with one of those craft foam brushes. That was a big fail! It painted on too thick and even after 3 days did not completely dry in spots. I soaked it in hot water for a while and thankfully it peeled right off. In one sheet. That was pretty cool.
So I tried again, this time with a cheap, soft paint brush. One that came in a pack of 15 brushes for $7 in the craft department of Walmart. This worked much better.
After it dried it looked like tinted glass, not sea glass. My husband loved them but this photo I took today is after painting a 2nd coat and letting it completely dry. Still looks like tinted glass but not quite as transparent as before.
I actually like it and next I am going to spray them with Krylon Crystal Clear to protect the finish from coming off when they are washed.
p.s. To make these candle holders I bought the bowl and stem separately at Dollar Tree (on the candle aisle) and attached them with e6000 glue.